by Alberto Aleo
Imagine an open space with a score of workstations, each dedicated to the management of a single piece of a process, with one person working at a section of the site, one analysing a competitor and another reading sales data. I arrive, on a high after completing my masters and in my new suit, and I sit down at what I decide will be my temporary desk as this will be just a springboard on my way up through the departments. After a few months, just like everyone else, I have my own mug and the photos of my girlfriend in plain sight. I don't wear a suit any more, at the most I put a jacket over my sweater, mainly because I don't want it sitting in the wardrobe rather than for any real need. This situation continues for a while and then one day our small, elegant, inscrutable, absent-minded, powerful and enigmatic … chief marketing executive unexpectedly abandons the closed sanctum where he usually resides to plunge into our open space and without wasting time declares
---
I'm leaving this office for a new pioneering position that will be difficult and challenging. I need men and women from marketing. Does anyone here want to come with me?
---
A new challenge
You have to realise that hardly anyone actually knew our boss as he spoke only to direct collaborators while we "mere mortals" who just carried out instructions that he had rubber-stamped. A moment of awkward silence followed his invitation and then there was the noise of scraping chairs, and I jumped up. I discovered I was the only one to do so and that the noise had not been a "move to the starting blocks" but my colleagues settling themselves more firmly at their familiar workstations. The engineer was now standing in front of me, an unsmiling challenge on his face. I felt like Jerry Maguire's girlfriend and was overcome by embarrassment. However, I could not back down and a few days later, I actually moved on to the new, mysterious destination.
Roll up your sleeves
When I arrived at my destination, I discovered that we had inherited a peripheral branch of a newly acquired company. The business was losing money, in as good a shape as the crumbling offices. The first day I arrived to find the engineer in shirtsleeves. I was told that someone had to pick him up from the station because in the new job he no longer had a company car (which for a manager is like armour for a knight). He was shifting boxes and desks together with an older employee with a handlebar moustache, changing the layout of the office. I came in and asked, "Where shall I put my things?" I received no answer but someone handed me a bag. I was puzzled, worried and already regretting my hastiness, but mostly I missed my desk with my own personal mug and photo of my (now ex-) girlfriend. After a few days, I asked my boss to provide me at least with a place to sit down. His only response was to send me to look for a blackboard! So now our empty office had a blackboard, complete with chalk and eraser, but its presence unexplained.
The magic blackboard
After the episode of the blackboard, the engineer disappeared for a few days and, when we had all started to think he had returned to his place in the higher echelons with the other top executives, we saw him arrive holding a sheaf of incomprehensible printouts. Without saying a word, he took a chair, walked over to the blackboard and began to fill out a table. Along the x-axis, he put the months of the year, while on the y-axis he wrote the names of our offices. He filled the boxes with numbers, making sure to leave a space next to each one where he wrote the word "progress". When he had finished he called us over and said:
---
The board you see behind me contains the sales target for this year distributed by month and for each office. Do you know that currently we have no agents and no dealers, but I'm telling you that if we work together as a team and if each of us feels part of the responsibility for the sales target, and commits each day to making it happen, we can succeed. That's why year I have put the names of your offices next to the months of the year. Every sale you help to conclude will be added to the progress. Each month, if we reach our budget, I will take you all out to dinner and will reward the office that contributed most, but if we do not reach the budget there will be no meal, even for the single offices that reach their goal, because we win and lose together
---
We were shocked, some colleagues mumbled dissent while others complained loudly, reminding him that we were not sales staff. But the objection that struck me most was that of my IT colleagues who objected to the use of a blackboard to record our goals saying that at most an excel file would do. Our boss pulled his sleeves up further and wiped his forehead, answering
---
The blackboard is a symbol that will remind us every day that we are here to get a result. This single result is shared, regardless of our function. I want anyone who has helped to sell even a single extra product to approach the blackboard proudly and add a unit to the table, meeting the eyes of their colleagues and learning to manage a victory.
---
We were sceptical, but nonetheless began to use the blackboard, as did the engineer himself, respecting this practice like everyone else.
I stayed in that company for four unforgettable years, a period rewarded with success and satisfaction. I gained a lot of experience in that time, as well as forming friendships and building fond memories. Yet what still excites me and makes me smile, is the image of the engineer's magic blackboard, placed above our open space, and the people as they stretched to update the data, at first almost shyly, then with pride and sometimes winning approval and applause.
Now, as I approach the hundredth management book and read of the importance of sharing information and the use of CRM tools to motivate and focus the team, I think of the simple solution of the engineer's magic blackboard and reflect on how the most complicated strategy can sometimes find a simple and tremendously effective application. Obviously, I have since adopted the expedient of the magic blackboard in all the commercial organizations for which I've worked, sometimes more successfully, sometimes less, and the outcome most definitely depended on my ability to explain the "secret" to my colleagues and to motivate them properly.
When I left the engineer's company, my colleagues gave me a card signed by everyone (boss included). It bore the simple message, "we'll never remove your name from our blackboard".
| partem claram semper aspice |
The photos used - where not owned by the editorial team or our guests - are purchased on Adobe Stock and IStockPhoto or downloaded from platforms such as UnSplash or Pexels.
Did you like this post and want to learn more about the topics?
Passodue research on issues related to sales, marketing, ethics and the centrality of human beings within the market logic, officially started in 2012. The results derived from our work are described in the publications and in the books you can find in this section.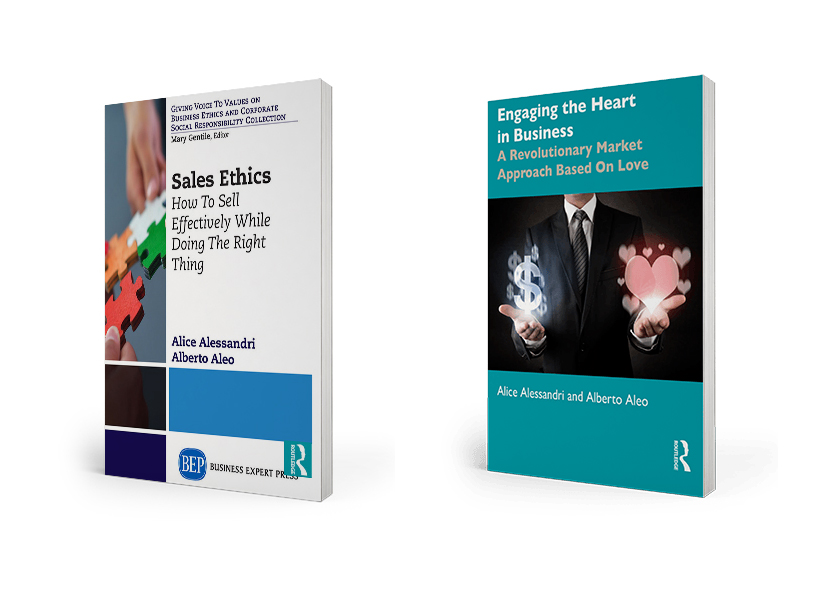 Click below to find out Passodue's books.