Rebuilding trust between customer and seller
to jump start business
Our research on sales ethics began officially in 2012 but it is rooted in our entire professional experience. It stems from a reflection: analysts and experts in finance and economics agree that the spread of every market "crisis" can be traced back to a lack of consumer confidence. So why not start by rebuilding the fabric of trust that links customers and sellers to jump start our business and improve our results? The bond between performance and ethics is underlined by the ever-growing attention that companies dedicate to customer care, to reputation and to the dissemination of their values ​​and their mission.
This approach, far from being a passing trend, is at the heart of an academic discipline – Business Ethics – which officially appeared on the world scene in 1976, when Professor Mike Hoffman founded the first department dedicated to this subject at Bentley University, close to Boston. The origins of Business Ethics can, however, be traced back further to earlier studies and reflections made by Nobel prizewinners, entrepreneurs, philosophers, scientists and even churchmen. Indeed, some authors identify the first treaty on the ethical management of an organization as the Rule of St. Benedict, written in 534 AD.
Yet it was more than scientific studies and research that convinced us of the need to bring ethics back into commercial negotiations by creating a method that would put the principles of business ethics into practice! Those involved in Passodue have worked for many years and gained experience directly in companies, often in commercial roles; we were therefore personally aware of how many negotiations and relationships fail precisely because of conflicts and crises of trust that can only be resolved by adopting a different point of view and appropriate tools.
This led to us undertaking independent research, supported by aid and discussion with experts and professors both within Italy and beyond, aimed at identifying and setting out the negotiation techniques that would most effectively bring results while maintaining and strengthening the relationship with the customer. Meeting an average of 1000 sellers each year belonging to about 50 organizations and companies of different sizes and sectors, throughout the period of research (lasting almost 3 years), enabled us to analyze best practices and errors and to confirm that relationships and the economy are driven, in fact, by trust.
It was, therefore, necessary to rethink behavioral models around the ethics of commercial relations. Through observation, we were able to understand how trust builds up between customer and seller through a series of successive levels, in what we have called the circle of trust. Each level must be successfully completed using the precise techniques that we have identified and encoded thanks to our research, in order to achieve the objective.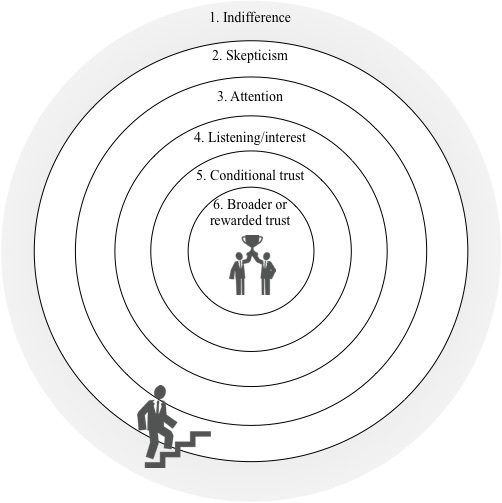 Thus, what emerged was a method of negotiation in which ethics and trust are drivers of long-lasting commercial results. We immediately started to introduce sales ethics to the companies with which we worked, training salespeople and managers with excellent results because rebuilding trust means staying in the market to generate wealth and profit, innovating your competitive capacity and adapting it to what consumers want, namely ethics, reliability, transparency and respect.
Learning about sales ethics
Sales Ethics is, therefore, a branch of Business Ethics – a subject taught and disseminated above all in the US – which deals specifically with negotiation and relations with customers. Thus, each year we visit the United States to continue and enrich our research and to innovate and further develop our content.
This commitment led to our book "Sales Ethics" published in Italy under the name "La Vendita Etica" by Franco Angeli, and in the US by Business Expert Press where it has been adopted as a university textbook.
It contains a broader definition of sales than that commonly used and can be applied and put into practice not only by sales staff but by anyone having contact with customers (receptionists, technical and after-sales staff, marketing and administrative staff, etc.).
Sales, in our view,
is essentially an exchange of mutual value over time
between the customer and the seller.
According to this approach, 4 basic actions are required to sell ethically:
Ethics is not about "being good", rather it is a strategic factor for success that must be learned and trained to be used effectively. The techniques codified in the method of sales ethics that form the basis for our courses and our consultancies were conceived by combining the circle of trust with the basic principles of our approach and with the four pillars described above. They are designed to enable you to overcome any obstacle or conflict during negotiations so as to make your business effective from, at least, the following points of view: the results, the maintenance of the relationship over time, respect for people, the environment and of the society in which we live
There is no real progress or well-being,
without an ethical economy that takes into account all these aspects.