We turn the principles of business ethics into business strategies.
Through our consultancies and training courses we provide companies, organizations and professionals with an original method of market approach that makes the principles of business ethics pratical and enforceable, allowing you to achieve good results without giving up your own values.
"Diario di un Consulente" Passodue's Blog
Consultancies and training courses
"Diario di un Consulente" is the blog edited by Passodue, where we tell stories about business ethics, happiness and success. Hundreds of articles dedicated to a wide range of topics concerning corporate life, that show how there is a different way of being on the market.
24/05/2021
During your first meetings with clients the best thing to do is not to treat them as such. In the initial stage, forget you want to sell anything and concentrate only on the person in front of you.
26/04/2021
The word marketing has entered the common usage of business language. But what is marketing for and what does it do in practice? Here are some answers.
29/03/2021
Men are social animals, which means that their survival and evolution are linked to their ability to connect with others, making the most of shared skills, creativity and ideas . However, putting heads together to create a powerful brain capable of producing shared value is not always easy: this is why it is advisable to resort to methods and tools that can help us. We will describe a few in this article.
01/03/2021
In a conversation, are we sure that we can 'delegate' the success of the information exchange to the person on the other side of the conversation? Let us try to think together about the issue of responsibility in communication.
Our training consultancies, aimed at creating skills and abilities developing internal competence, and our consulting trainings, based on real cases and customized to the reality of participants, are the result of over 20 years' experience and constant international research.
Passodue and its new partner T-Station Academy offer you a training course designed to deal with the dynamics of new markets through three types of activities:
– Master Classes dedicated to the hottest topics in company life
– Executive Classes that focus on leadership and commercial strategy
– Innovation Classes focused on the historical-economic moment we are living in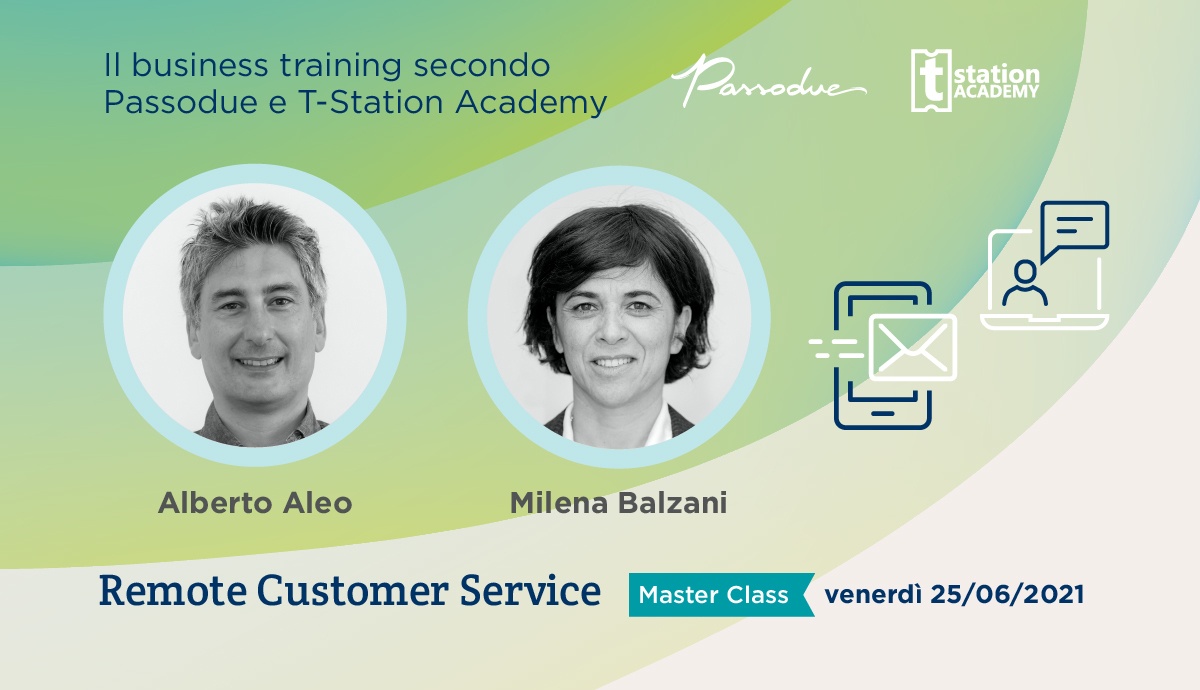 Training courses
Consultancies services
Courses calendar
Discover Passodue's 2021 training calendar.
Stay up to date with Passodue
Our method
Our job is to lead you, your team and your company to take the second step, precisely the Passodue, made up of method and strategy, abilities and skills: precious tools to develop and train over time.
Satisfaction questionnaire
We need your opinion about us!
We ask you to respond to a few questions which will help us understand the efficiency of our courses and our business consulting.
Passodue's results
 97,5% of clients satisfaction
What have been the most significant results after working with Passodue?
Increase in personal motivation + 44%
More consciousness about market strategies + 22%
Better relationship with colleagues and leaders + 17%
Better reputation and positive word-of-mouth + 4%
*  We extract the data from the satisfaction questionnaire in real time, without filters.