by Alberto Aleo
My wife, Alice, who is an expert in relations and interpersonal communication, always says: not all customers are the same, but they can all contribute to our success. Customer targeting is, in fact, one of the most strategic activities that can help you define objectives, plan and schedule activities, manage time effectively and, overall, achieve results. Let's now discuss how to understand the nuances of the value of the customer.
The various aspects of the value of the customer
Customer profiling is the backbone of good customer management. What is the purpose of profiling? First of all, it involves assessing the value of the customer, and then appointing an objective and defining the operational priorities that are related to our relationship with the customer.
What do we mean by the value of the customer?
There are many related theories, but I personally make use of 4 indicators:
Generated revenue

Direct potential revenue

Indirect potential revenue

Management costs
I don't think we need to dwell on the meaning of the first indicator. To determine generated revenue, it's a simple matter of analysing sale data.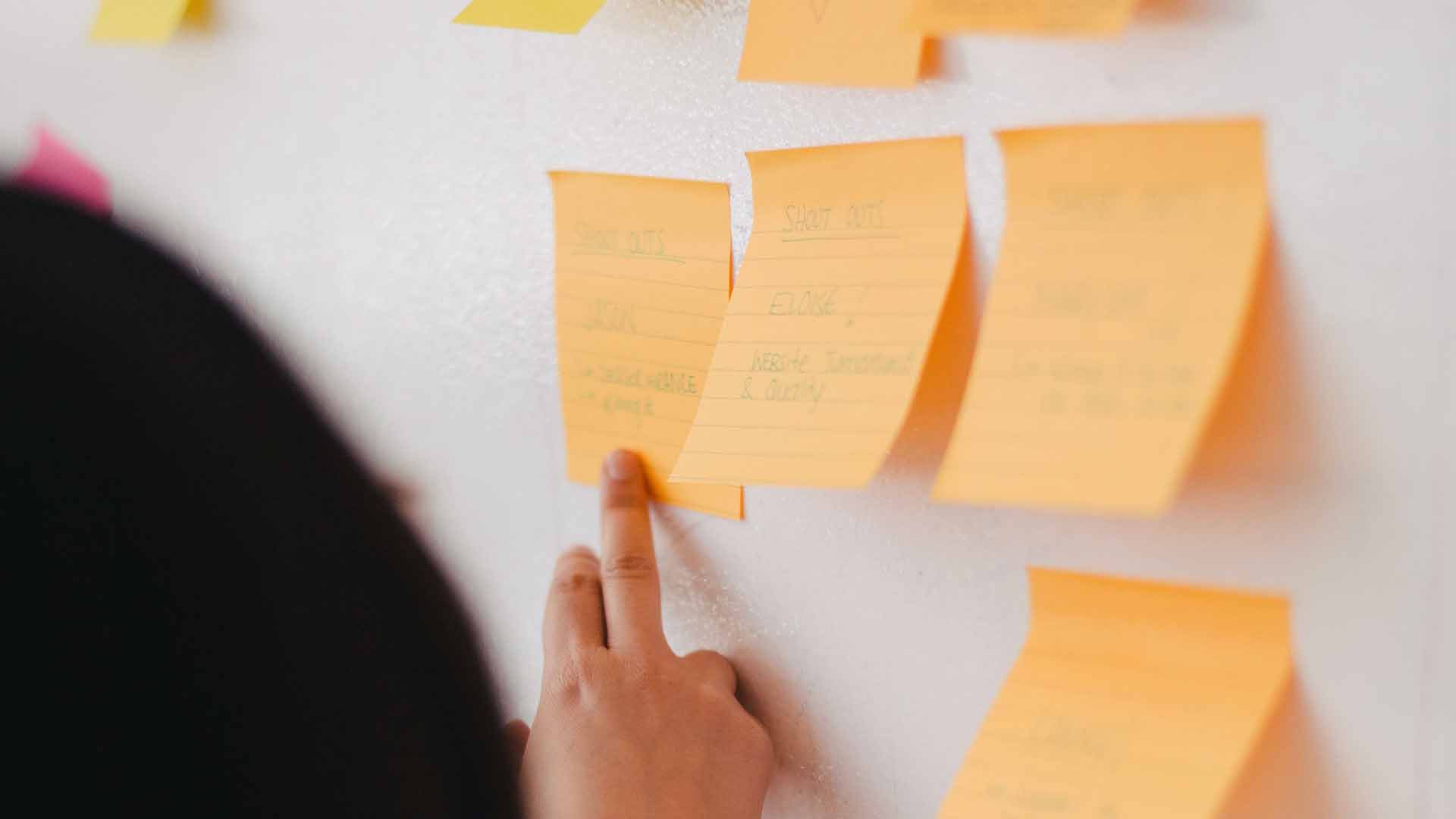 Photo by Jason Goodman on Unsplash
Understanding potential and calculating value
Direct potential revenue is easy to understand when it comes to a new customer – as it coincides to my expected revenue once they are in my portfolio – but it's worth further investigation if it relates to an existing customer.
At times, especially if the generated revenue is considerable, we forget to look into how much our customer can become even more economically significant, and this can be achieved by assessing the actual value of our "share" as suppliers in their purchasing strategy.
For instance, if a customer purchases 100 units of a product or service that I supply, but is only purchasing 30 from me, even though 30 units is already economically relevant, I can work on making my supply share grow.
The term indirect potential revenue defines the value of the customer as a "reference value". In other words, their ability, deliberate or not, of recommending us to other customers. This aspect needs to be managed because it really is a "double-edged sword".
A high indirect potential value can, on the one hand, allow our "management efforts" to positively resonate and multiply in our customer's network, but on the other hand, will also amplify our flaws as suppliers. That is, it will generate bad references if our performance isn't up to scratch.
Finally, management costs mean the cost of the relation: the number meetings that are needed to finalise an order or the number of complaints that the customer files. If you like, it's an indicator of how "easy" it is to run commercial activities and to get sales results. Similar to the previous indicators, it's good practice to define management costs with an economic value, and it needs to be subtracted from the previous three values so as to define the value of the customer.
From the value of the customer to actions and objectives
To go from calculating the value of the customer to objectives and, consequently, to actions, I usually create a diagram by placing the potential value of the customer on the y-axis, expressed as a sum of direct potential and indirect potential (items 2 and 3 of our previous list), and by placing generated revenue (item 1) on the x-axis. Therefore, each customer will be placed on the diagram according to these two spatial coordinates. By doing this, we will have customers with low revenue and low potential in the lower left quarter, the ones with low revenue but high potential in the top left quarter, customers with high revenue and high potential in the top right quarter, and finally, in the lower right quarter, we will find customers who, despite having high revenue, have a low growth potential (see picture).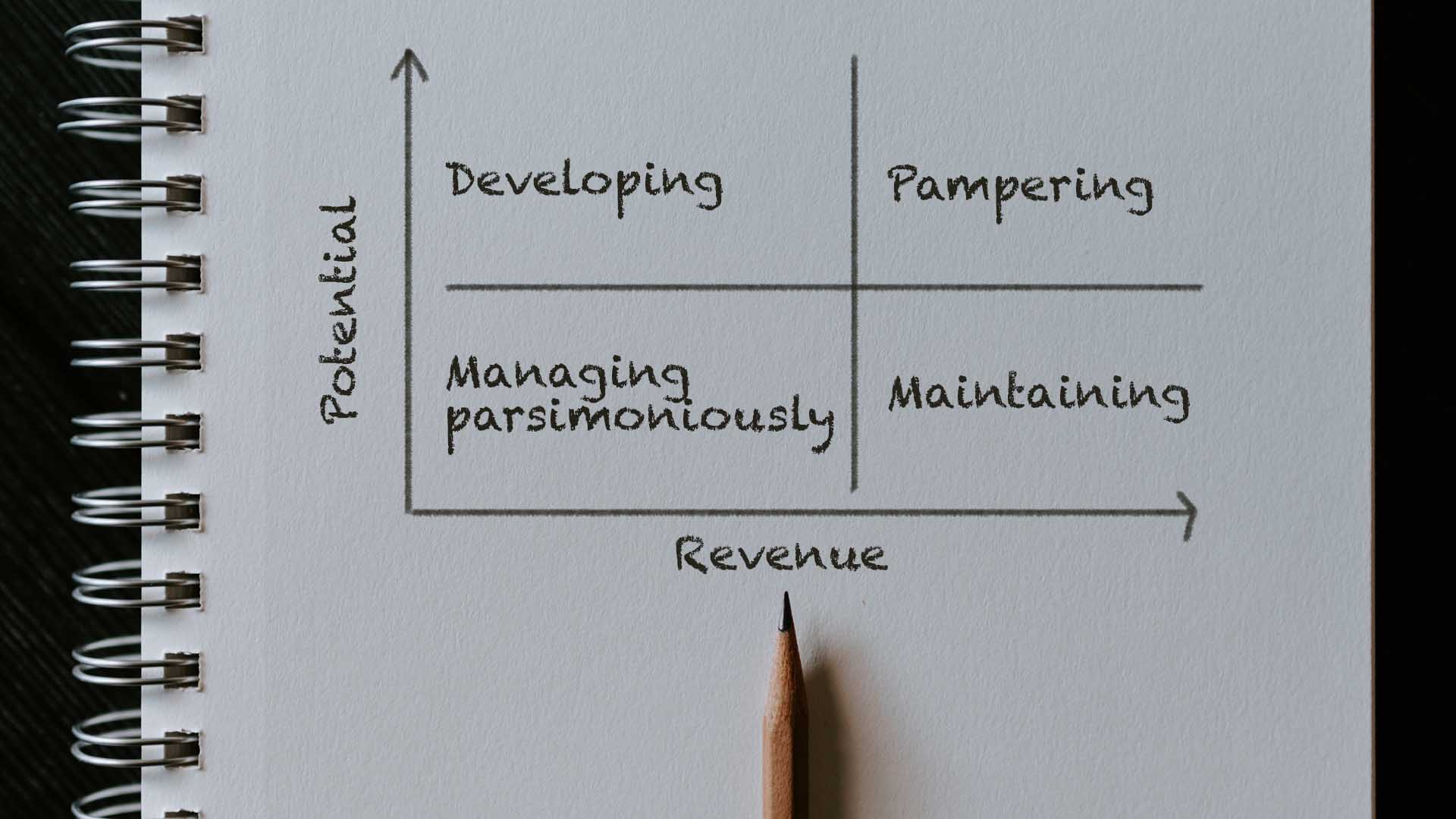 Photo by Kelly Sikkema on Unsplash
Why do we need this diagram? I mainly use it to define management strategies, which can be summarised as follows:
Customers to pamper

Customers to develop

Customers to maintain

Customers to manage parsimoniously
Hidden behind the word choice, which is definitely far from "technical", are accurate management choices, which are invariably related to the type of market and the company we operate in. Pampering customers can, for instance, mean analysing their needs and their purchasing behaviour in a more targeted manner, trying to create the right conditions to help them express their maximum potential. Developing usually means investing on the client. In other words, the person managing the relation should be given an actual budget which will be used to increase the customer's value in time. Maintaining, on the other hand, might include strategies aimed at strengthening the relationship, such as planned purchases or fixed terms of sale in exchange for loyalty and commitment. To me, managing parsimoniously means optimising costs by replacing meetings with phone calls and trying to limit discounts and preferential treatment, for example.
---
Whatever you decide to do, what matters is to remember that customers aren't all the same. We should, therefore, adapt our behaviour depending on who we are speaking to, without underestimating or taking a customer for granted.
---
If it is true that, according to the well-known Pareto principle, 80% of our revenue is achieved from only 20% of our customers, it is also true that we cannot afford to leave anyone behind on the path that leads us to achieving results.
| partem claram semper aspice |
The photos used - where not owned by the editorial team or our guests - are purchased on Adobe Stock and IStockPhoto or downloaded from platforms such as UnSplash or Pexels.
Did you like this post and want to learn more about the topics?
Passodue research on issues related to sales, marketing, ethics and the centrality of human beings within the market logic, officially started in 2012. The results derived from our work are described in the publications and in the books you can find in this section.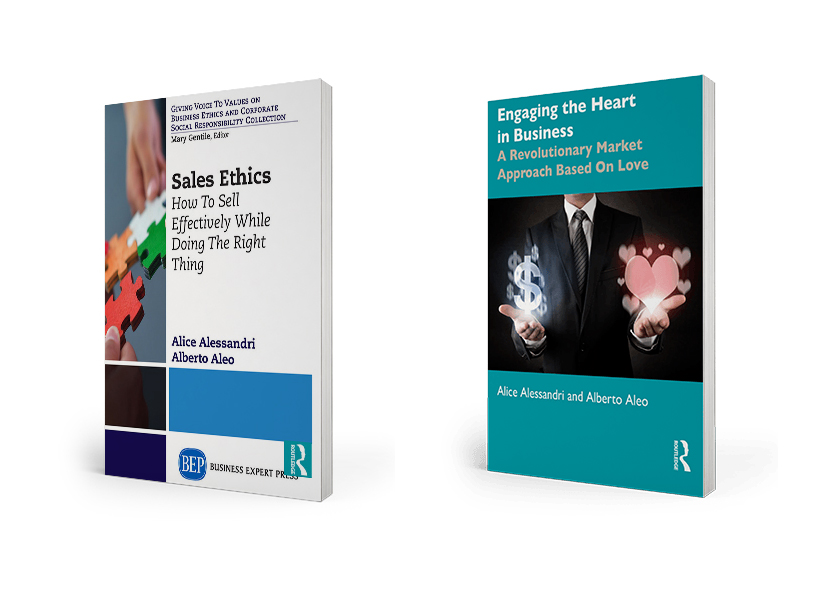 Click below to find out Passodue's books.